Fall is by far, my favorite season of the year!?? I believe the seasons ignite certain feelings and emotions within us and Fall to me, is all about family, friends, home & the beauty of nature.  You can find the beauty of Autumn everywhere.  From the vibrant fall leaves to pumpkins of all shapes & sizes to hay rides and hot apple cider!  Fall reminds us that happiness can be found in the simplest of things and in the beauty that surrounds us.
Plus it gives us a reason for….pumpkin spice everything! Who doesn't love that?? I could go on and on about my favorite season but since this is a post about Fall Beauty Tips & Makeup Trends, I won't!?
Every Fall, I like to make a few changes to my Beauty, Skincare & Makeup Routine.  It's always fun to add new trending makeup products and… there are Classics that I turn to year after year.  So let's get to it…
Here are 10 Ways to Spruce up your Beauty & Makeup Routine this Fall and a few 2018 Fall Makeup Trends to try (over 40 approved!)

#1 Peachy/Pink Blush – 2018 Fall Makeup Trend
Summer's over and it's time to ditch the Bronzer.  One of the hottest Makeup Trends for Fall 2018 is a radiant flush and rosy cheeks made possible with a peachy/pink blush.  Wear the blush high on the cheekbones for a youthful look.  For a healthy, fresh-faced look, use the blush in place of  contour applied to the hollows of the cheeks and across the temple.  Two worth trying are Hourglass Ambient Lighting Blush in Iridescent Flash, a soft magenta with swirls of peachy pink.  And Charlotte Tilbury Cheek to Chic Swish & Pop Blush in Ecstasy, a two toned peachy pink.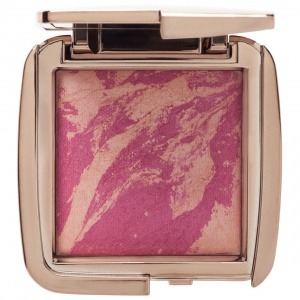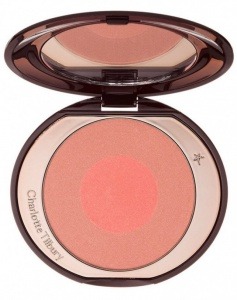 #2 Fall Scented Candles
OK, I know this is not makeup or beauty related… But, I'm betting if you're a beauty lover reading this, you probably love candles as much as I do! Am I right???? Candles warm up your home, your personal space, your Spirit and can even improve your current mood!  There's nothing better than a perfectly scented candle for the Fall!  Here are two fall scented candles I can't live without!  They make your home smell fantastic & put you in the mood for pumpkin pie & hot apple cider!
The #1 Best Selling Fall Scented Candle on Amazon, these candles are handmade to order & smell amazing!  They are 100% phthalate free and biodegradable, made with 100% natural soy wax which is petroleum free.  These non-toxic candles burn clean and evenly with a total burn time of over 75 hours.
This Pumpkin Spice scented candle smells just like pumpkin pie with a hint of cinnamon and spice.  Family & friends who come to visit will think you've been in the kitchen baking all day! In addition to Pumpkin Spice, both Pumpkin Pecan Waffle and Hot Mulled Cider smell amazing as well! Maybe one of each??
This candle looks much more expensive than it actually is. The jar is beautiful and the Baltic Amber fragrance is a great choice for Fall. Scented with amber resin, sandalwood and vanilla orchid, this candle will have you dreaming of Pumpkin Spice Lattes and apple doughnuts in a matter of minutes!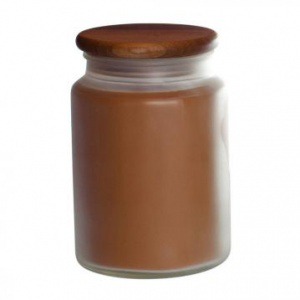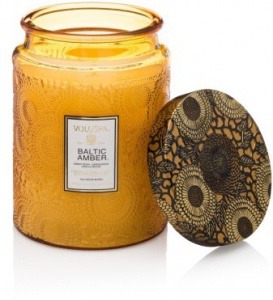 #3 Jewel Toned Eyes – 2018 Fall Makeup Trend
If you love bright, vivid colors, you'll be in Fall Makeup heaven in 2018!  Bold, colorful jewel tones are dominating the eyes this Fall.  With colors ranging from yellow and blue to orange and purple, this look has endless possibilities!  Dress it up or keep it simple with one of these jewel toned palettes for Fall 2018.  Two of the hottest palettes this Fall are Urban Decay's Born to Run Palette and Too Faced Then & Now Eye shadow Palette.  For a budget friendly option, NYX Professional Makeup's Midnight Chaos Shadow Palette is a good option!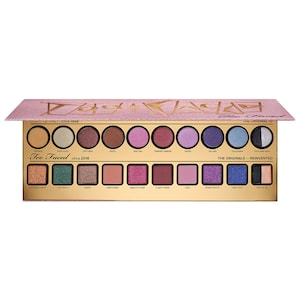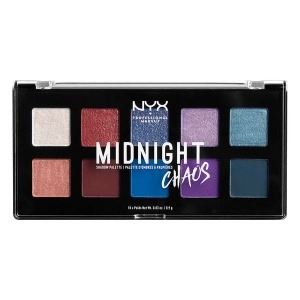 #4 Colored Mascara – 2018 Fall Makeup Trend
The 90's are calling… Colored Mascara is back!  And when I say back, I mean back!  This time in brighter, bolder shades like electric blue, bright yellow pink and purple. If you're over 40 and you think you can't wear this look… think again! Colored mascara feels fresh, assertive, and fearless.  Go for it with one of these top picks this Fall!
Marc Jacobs O!Mega Lash Volumizing Mascara in Peacock (a teal blue) or All About Yves (electric blue) has a brightening effect on all eye colors.  This combined with the plumping effect of this mascara makes your eyes look wider, brighter and younger! Yves Saint Laurent Mascara Vinyl Couture in eight shade selections including I'm the Trouble (a royal blue) and I'm the Madness (a watermelon pink), has a high shine effect for glossy, wide awake eyes.  And finally, the cult classic, Maybelline Great Lash Mascara is offering up a Royal Blue shade that counteracts redness and makes your eyes look whiter and brighter.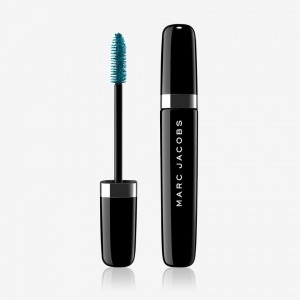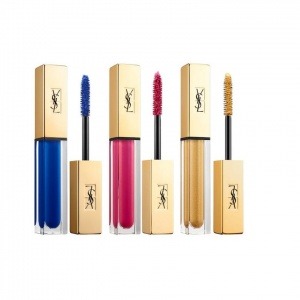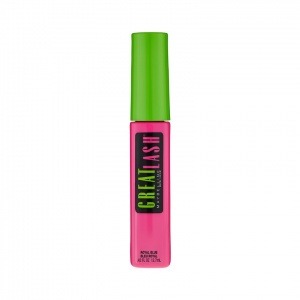 #5 Luxurious Body Cream/Oil to Prepare your Skin
Winter wreaks havoc on the skin and will be here before we know it.   Prepare now by switching to a body cream or body oil that is ultra moisturizing and protects your skin.  I like to apply my body cream or body oils immediately after a shower or bath while the skin is still wet.  Then lightly pat dry after applying.  It makes a world of difference!  Here are a few body creams and body oils that will have your skin winter ready in no time!
Josie Maran Whipped Argan Oil Body Butter is fantastic, slather this on after showering and I swear it lasts 24 hours and leaves your skin feeling like silk! Brazilian Bum Bum Cream from Sol de Janeiro addresses dryness of the skin, dullness and uneven texture as well as loss of firmness and elasticity.  And the fragrance of this cream is intoxicating.  I'm totally addicted to this cream.  Seriously, to the point where I start panicking if my jar is low and I don't have this after showering for 24 hour moisturized Skin!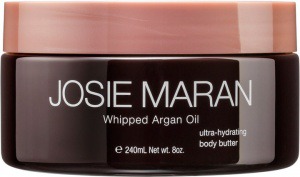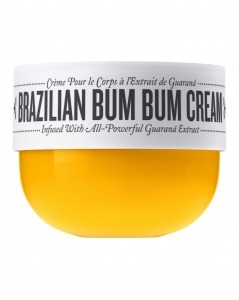 #6  Classic Red Lips – 2018 Fall Makeup Trend
A classic Red Lip never goes out of style and it's back with a twist for Fall 2018.  A deeper red hue with hints of deep purple and dark brown were all the rage at fall fashion shows.  Of course the models wearing this look are all twenty something!  So can those of us in the Over 40 club pull off a classic red lip?  The answer is YES with these 2 steps and the right lipstick.
Step one is to apply a primer to your lips.  This will fill in any cracks or wrinkles and provide a smooth surface for application of the lipstick.  Step Two is to line your lips to prevent feathering or bleeding.
Finally, you'll need the right lipstick.  Here are three that are on trend with a formula that works well on mature lips! Stila's Stay All Day Liquid Lipstick in Fiery ( a deep red) is a creamy, full-coverage lip color with long-lasting coverage. Lancome L'Absolu Rouge Renovation Hydrating Shaping Lipcolor in Isabella (brick-red) is an ultra-luxurious, hydrating lip color with a comfortable feel and all-day wear.  And Julep It's Whipped Matte Lip Mousse in At Midnight (fireball red) provides weightless coverage with a light-diffusing blend of pigments that minimize the appearance of lip lines.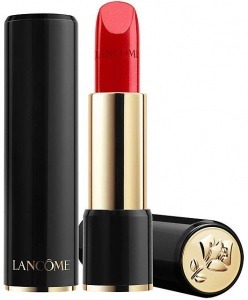 #7 Indulge in a Long Bubble Bath with Fall Scents!
This may be my favorite one on the list!  Bubble Baths are a huge part of my life!  And this is one of my favorite times of the year to relax & enjoy long, hot baths with any of these scented fall favorites!  They'll leave your body feeling relaxed and your spirit refreshed.  There's NOTHING better than a long, hot bubble bath!  Try Philosophy Pumpkin Icing or Apple Cider, Shower Gels with the favorite flavors of fall!    Philosophy Shower Gels also double as Bubble Baths and Shampoo which is a plus!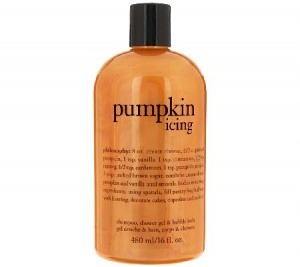 #8 Add a Refreshing Mist to Your Beauty Stash
For added hydration and all around Glow, carry a refreshing mist in your purse.  Spritz it onto your face whenever you need to refresh or feel dry. Wander Beauty's Glow Getter Mist is perfect to throw in your bag to refresh my makeup throughout the day. Wander Beauty Glow Getter Mist is enriched with glacier water from Iceland to soothe, hyaluronic acid to plump fine lines, and 25 essential oils that leave your skin glowing.  Trust me, you need this in your life!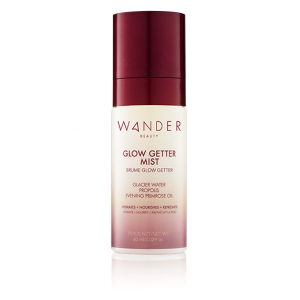 #9 Add a Super-charged Lip Balm to your Beauty Bag
To prevent dry, chapped lips (you KNOW they are coming along with winter!), add a lip balm that doubles as a lip treatment to your skincare routine.  Use it day & night to keep your lips super hydrated & kissable. Fresh Sugar Lip Treatment is one of my favorites and a lifesaver during the fall/winter seasons!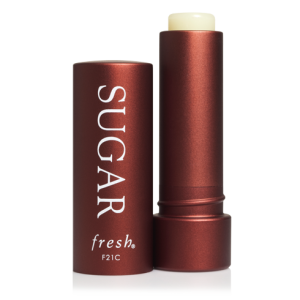 #10 Don't Skip the SPF!
☀
This is perhaps the MOST important one on the list.  Just because Summer is over, that doesn't mean you can skip using an SPF to protect your skin from the Sun. Sunscreen should be used year round and applied to your face, neck and body. Make sure you are using a minimum SPF30 (preferable SPF50) on your face & neck and a minimum SPF30 on all parts of your Body that are exposed to the sun.  Make this a part of your morning routine so that it becomes habit.  Here are some of my favorite sunscreens that won't leave you looking like a grease ball!  For the face, Australian Gold Botanical SPF 50 Tinted Face Lotion is a mineral sunscreen that is non-greasy with a matte finish and wears perfectly under makeup. The tint is very light and basically just evens out the skin tone. Exuviance Sheer Daily Protector SPF 50 is another good option for the face and wears well with or without makeup.
For the Body, I love Hawaiian Tropic Sheer Touch Ultra Radiance Lotion Sunscreen SPF 50 or Banana Boat Sport Performance Sunscreen Lotion.  Both are lightweight and non-greasy and smell amazing!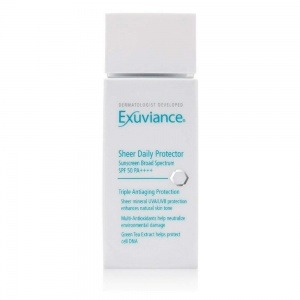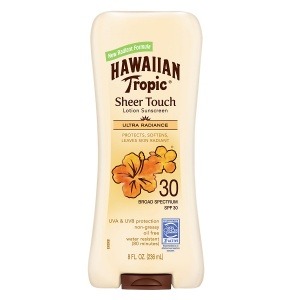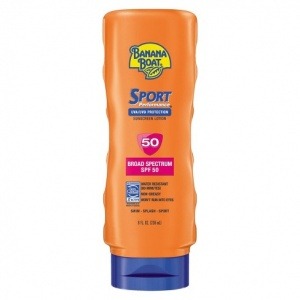 What are your Fall Beauty Must Haves?  What beauty products are you excited to try this Fall?  As always, I'd love to hear from you.  Please leave your comments below!
Until next time…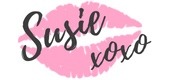 Follow me on Instagram, @Susie_Truett_, for updates and all of the latest from 40andholding Beauty Blog!

SHOP THE POST:
Like This Article? Please take a moment to share it with your Friends on Facebook, Twitter or Pinterest. Use the buttons below to share!